Order Pall Vacucap Filters online through Voigt Global Distribution - for pricing and ordering, CLICK HERE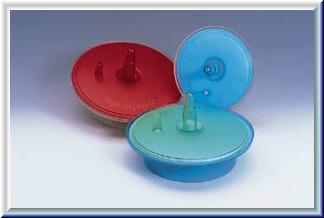 SEE OUR COMPLETE STERILIZATION FILTERING SYSTEMS BELOW

The Pall VacuCap Filter is used for sterilization or clarification of a wide variety of fluids. Pall VacuCap Filters can be used for cell culture and serum-containing media liquids. The Pall VacuCap Filters have a Supor (hydrophilic polyethersulfone) membrane which provides fast flow rates. Pall VacuCap Filters can draw directly from mix vessel and filters directly into the desired containers, minimizing transfer steps. The Pall VacuCap Filter accepts a variety of collection vessels. Voigt Global offers the Pall VacuCap 90 Filter which is designed for volumes of 1–5L. VacuCap PF devices have built-in prefilter that increases throughput of viscous or particulate solutions, such as serum-containing media. Polyester membrane support. Acrylic housing. Pall VacuCap Filters are Sterile. Pall VacuCap Filters come with one piece of tubing per ten filter devices. The feedline accessory kit includes tubing and a glass sinker. Discounts on Pall VacuCap Filters for reseller and bulk orders (5 or more cases of Pall VacuCap Filters)
Pall VacuCap
Description
Pall VacuCap
Pore Size
Pall Vacucap
Diameter, mm
Pall VacuCap
Item No.
Quantity per
Case
VacuCap 90
0.1 for critical sterilization
90
Pall VacuCap 4621
Pack of 10
VacuCap 90
0.2 for sterilization
90
Pall VacuCap 4622
Pack of 10
VacuCap 90
0.45
90
Pall VacuCap 4624
Pack of 10
Feeding Accessory Kit
—
—
Pall VacuCap 4623
Each



All components of the Pall Vacucap Filter system are sold seperately and shipped to customers worldwide!
Pall Vacucap Filters are listed above.
Hand operated vacuum pumps, erlenmeyer flasks and media storage bottles are below.
1). Connect the feed tubing to the port marked "INLET" on the Pall VacuCap filter. Place the opposite end of the tubing in the unfiltered fluid to be withdrawn.
2). Connect the vacuum tubing to the port marked "VACUUM" on the Pall VacuCap filter.
3). While holding the VacuCap filter securely onto the filtrate reciving media storage bottle (see below), start using the hand vacuum pump (see below) . The VacuCap filter will seal securely to the container top and fluid will be drawn.
4). When the Pall Vacucap filtration operation is complete, release the vacuum pump to allow the vacuum inside the receiving container to dissipate.
---
Hand Operated Vacuum Pumps ~ to be used with the Pall Vacucap Filters above. Easily attain and hold a vacuum of 635Torr (25" Hg). Easy to use and have a 36mL/stroke and 7psi positive pressure at the exhaust port with a removable safety cover. An adjustable vacuum release with trigger works without disconnecting the pump from the vacuum hose line. Lightweight and self-lubricating. Supplied with two-feet of NALGENE 8000 clear plastic tubing.
Item No. VP-6131-0020-PVC: $240.00 USD

Item No. VP-6133-0010-Zinc: $360.00 USD
PVC Plastic Body
Item No. 6131-0020-PVC
Zinc Body with Gauge
Item No. 6133-0010-Zinc
---
Media Storage Bottles for use with Pall VacuCap Filters - These liquid media glass storage bottles are designed with a wide opening (30mm I.D.) and a drip-free polypropylene pour ring. Graduations and marking spots are printed in permanent white enamel on the side and are manufactured from borosilicate glass. The caps that come included may not be autoclaved. Remove the caps and the glass media bottles can be autoclaved to 180°C (356°F). Autoclavable plastic caps can be purchased separately.
Item No.
Description
Sale Unit
Price USD
MB89000-238
500mL Media Storage Bottles, 50mL graduation at 100 ~ 400mL
Cs of 10
$110.00 USD
MB89000-240
1000mL Media Storage Bottles, 50mL graduation at 100 ~ 900mL
Cs of 10
$135.00 USD
MB89000-946
Autoclavable Replacement Caps
Cs of 10
$112.00 USD
---
Erlenmeyer Flasks, Narrow Mouth, for use with Pall VacuCap Filters - These narrow mouth erlenmeyer flasks have a uniform wall thickness to provide the proper balance between mechanical strength and thermal shock resistance. Reusable flasks have a durable enamel graduations, an extra-large marking space for easy identification, and beaded top rims. Designed to ASTM E-1404 Type 1 specifications. Actual brand, color of enamel graduations and marking spot may be altered according to current stock availability.
Item No.
Description
Sale Unit
Price USD
70980-500
500mL Erlenmeyer Flask, Narrow Mouth
Pk of 6
$47.00 USD
70980-1L
1000mL Erlenmeyer Flask, Narrow Mouth
Pk of 6
$81.00 USD
Pall Vacucap, Vacucap Filters, Vacucap distributor, Pall retailer, Pall distributor, Pall filters, Pall bottle filtersPall VacuCap Bottle Filters. Order Pall VacuCap Filters Pall VacuCap Distributor Pall Vacucap Retailer Pall Vacucap Filters Dealer
---